This article features highlights from an interview with Stefan Smulders, the founder of Expandi.io, a LinkedIn automation tool that generates new leads and manages personalized automated messages on behalf of your business.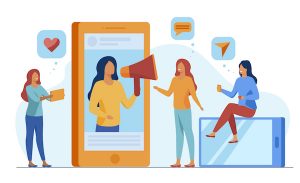 Gone are the days when people would use social media solely for staying connected with their friends and sharing their favorite cat videos. Today, social media has evolved into a robust and cost-effective marketing platform, especially for small businesses seeking to target specific audiences. While Instagram, Facebook and Twitter may provide you with a locus to publish, develop and connect with your audience, LinkedIn is completely dedicated to this purpose. In fact, LinkedIn has emerged as the preferred place for marketers and customers to engage and convert on serious commercial activity. This trend will only accelerate in years to come.
If you already know how to use social media to your competitive advantage, the following predictions will further help you to formulate, refine and activate your marketing strategies:
Video content will become the undisputed king of content
Video content has been on the rise for more than a year, and in the post-pandemic world, it will grow even stronger. Irrespective of the format or platform, video content will rule the content marketing world. Marketers swear by platforms such as Instagram Reels and YouTube, to engage their viewers and grow their loyal audience. Availability of various options, including IGTV videos, Reels, YouTube, etc., makes it easy for the brands to reach out to a wider audience base.
Video content scales beautifully. You can create long-form video content once and then edit down to bite-sized chunks, repurpose and post it strategically across multiple social media platforms. All you need to do is identify your audience and be sure to approach them when and where they prefer. For instance, if your target audience includes Millennials and Gen Z, tap into them through YouTube or Instagram. If your target is Gen X, you might not want to waste your time on Reels and IGTV videos, rather, focus on Facebook and LinkedIn.
Social Shopping will take center stage
While e-Commerce has already won over hearts, minds and wallets around the world, social shopping is ready to take center stage. The latest shoppable features of Instagram, such as Instagram Live Shopping and Instagram Reels Shopping, are compelling shoppers to make purchases without leaving their favorite social platforms. This innovation is having an outsized impact for small businesses as highly efficient social commerce goes mainstream. We predict that visual platforms like Pinterest will also jump on the bandwagon soon.
Social shopping bypasses the typically long conversion process by allowing customers to buy any product they like without leaving the platform. It's a great opportunity for brands to boost their online e-commerce sales exponentially. Shoppable posts, educational product videos, authentic product use photos, and product descriptions on social profiles facilitate the attraction, conversion and retention of a profitable customer base.

Memes are going to get bigger
The meme culture is already taking the world by storm. The idea of looking at every situation through a humorous lens is giving customers a reason to listen, a reason to care and a reason to engage. A meme is a simple, visual story that can be consumed and understood with a quick glance. Memes not only give you a simple way to get your message across, they also have the potential to boost and expand audience engagement. Given the short attention span of customers in the market today, we believe that the trend towards memes is not fading away anytime soon. And, if you manage to create a meme funny and clever enough to be shared with family and friends, rest assured, your story could go viral and potentially reach the world.

Marketing will become hyper-personalized
Personalized marketing is going to be an even bigger trend in the coming year. Brands are already trying to create marketing strategies that align with the personal interests and preferences of their target customers. Big brands, like carmaker Lexus, run Facebook ad campaigns targeting specific customer segments and personas that churn out excellent results. Recently, they managed to reach 11.2 million viewers on Facebook and enhanced engagement by a whopping 1678%.
We believe that personalizing the message to the audience in a relevant and authentic way is best practice and LinkedIn is one of the best platforms to activate this strategy. LinkedIn automation tools come equipped with smart targeting features that help you gauge your audience's interest through their engagement with LinkedIn posts, get their personal profile details, and create a marketing campaign targeting them.
"LinkedIn is not a game of numbers anymore, the rules have been changed" – Stefan Smulders, founder of Expandi.io

Educational content will become more important
Sharing educational content has always been a winning strategy for brands – especially in the B2B realm. We believe that things are not going to change anytime soon. Use Instagram Carousel posts to create educational and shareable content. Instagram Guides is another feature that allows you to share educational content on Instagram. Create a long list of tips and detailed how-to guides using the Instagram Guide feature to provide extra information to your audience.

Stories are going to be hugely impactful
Stories are the most impactful trend, dominating every social media platform. Instagram launched this feature in 2016, with 150 million users. Today, more than 500 million people are actively using this feature every single day. YouTube followed suit in 2018, and so did LinkedIn and Twitter (Fleets). With almost every social media platform offering this feature, its very likely that the storytelling game is going to get even stronger from here. Focus on creating a simple and compelling six-second story and then repurpose it across various social media platforms.
"The best arguments in the world won't change a person's mind. The only thing that can do that is a good story."

Richard Powers, The Overstory
Influencer marketers will ascend to new heights
Influencers are the real heroes of the social media world. With their relevant content and deeper understanding of what the audience wants, they have carved a niche for themselves. They already have their hands full with paid partnerships and promotions, and this trend is not going to fade in the foreseeable future. Influencers have a big impact on their audience, and brands use this to maximize their reach. Today, partnering with a social media influencer is a sure-fire way of reaching the audience. Just explore the possibilities, reach out to the influencers that have a strong following with the audience you are trying to tap into, and your work on conversion will be made much easier with an advocate on your side.
Virtual events will continue to thrive
Well, the year 2020 literally trapped us into the virtual events world, and 2021 may not be too different. 2020 was dominated by Microsoft Teams and Zoom, and everyone is expecting the same in 2021. Live content is the main feature on several social media platforms, including Facebook, Instagram, LinkedIn, and the new industry darling, Clubhouse. It says a lot about its significance in the social media marketing arena. As live content offers real-time information and nurtures real-time connection, it will continue to be a leading social media trend for many years to come.
The Bottom Line
The people who are able to catch trends early and go "all-in" on their bets are the people who make waves and make a name for themselves quickly. With social media, it only takes a moment to go out with the tide or go viral. Tap into these social media trends and predictions to give your customers a reason to listen, a reason to care, a reason to buy, and most importantly, a reason to stay. Your business bottom line will thank you.
If you're looking for more tips on using social media to tell your brand story, transform your customer experience, and accelerate the growth of your business, subscribe to the TopRight blog! Or connect with me on Twitter and on LinkedIn. You can learn more about how to bring simplicity, clarity, and alignment to your brand's story, strategy, and systems in our best-selling book: Marketing, Interrupted.