With over a billion active users, Instagram can do wonders for increasing brand awareness and driving growth of your business. It can help build your customer base and expand your market reach. So, it's an excellent investment to include in your social marketing playbook.
However, it's also a challenging platform to work with as many other brands also utilize it to promote their business. If you want to maximize the benefits of the platform, you should consider the following 5 ways to gain more loyal customers:
Increase Your Followers
Taking the first step is usually the most challenging part of pursuing a new endeavor. The same applies when you open a business Instagram account. For one, it will take time for your target audience to discover your account and begin to engage with it. Furthermore, you will need to conduct special promotions to build and expand a considerable following. Increasing your followers will help build your customer loyalty in the long run.
If a prospective customer sees that your account only has a few followers, they may end up skipping past your account without clicking the follow button. On the other hand, a sizable number of followers will demonstrate that other users trust your business and want to engage with you. You must invest in increasing your Instagram followers when you run a business account. A great way to get started is to buy real Instagram followers. This is an excellent method to increase your visibility and build your account. Although it requires an investment, it will build brand awareness and customer loyalty.
Post Consistently
Gaining a bunch of followers won't immediately guarantee that they'll patronize your business. Some users who know about your Instagram page may only follow you to see whether you can offer something they need. Hence, be sure to regularly post content to strategically engage them. Remember that you should find a balance between posting to remain visible to your customer base without overwhelming them. If you appear too often in their feeds, and begin to seem interruptive, they may unfollow your account. Thus, you should be disciplined about how often you engage your followers.
Posting at the same time of day a few times a week is a good start to improve your brand visibility. This will let your audience know when they should expect to see new content from you. Once you maintain your followers' attention, their potential to be loyal customers increases. In addition to planning your promotional materials, you can also use Instagram growth services to help you optimize your platform, attract new customers, and engage a wider audience.
Interact With Your Followers
Some customers prefer to purchase products or services from brands that show they value the customer experience. So, if you want to build your customers' loyalty on Instagram, you should take advantage of its features and interact with your followers.
For instance, you can answer questions in your comment section as it'll be more accessible to other people who visit your site. If they have any inquiries, it may be easier for them to browse your posts and check whether other customers have already asked the same question. Also, you can repost your followers' stories or media to show you appreciate their effort to patronize your brand. Doing this regularly will gain the trust of your followers and convert them into customers.
Offer Something New
Once you gain a considerable following for your brand on Instagram, the next step is to assure they continue to support and advocate for your business.
Brands across various industries utilize social media platforms, so you need to make sure you stand out from the crowd. One way to generate customer loyalty is to offer them something new. For instance, you can post engaging content like reels, videos, and photos. Features like Instagram Live allow you to communicate with your followers in real-time. This function lets you broadcast a video where users can watch and comment about your offerings. In this way, users who view your Instagram account will get more value from browsing your content and then interacting directly with you. In addition, you can launch new products or services you want to offer on Instagram as it may help you gain more followers.
Work With Influencers
Another effective method you can apply to gain your customers' loyalty on Instagram is working with influencers. Influential personalities who resonate with your brand story can help to authentically promote your business and increase your reach by sharing your products and services with their audience. By getting authoritative influencers to tell your story on your behalf is a highly scalable way to build brand trustworthiness – helping you to capture your audience's attention and to encourage them to engage with your brand.
Final Thoughts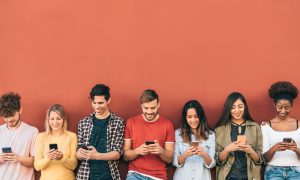 In the end, strong customer loyalty is built on trust and communication. You must be dynamic and flexible in your marketing approach. At the same time, you must provide quality service and a great shopping experience for everyone. If you're looking for more tips on using Instagram to tell your brand story and transform your customer experience, subscribe to the TopRight blog! Or connect with me on Twitter and on LinkedIn. You can learn more about how to bring simplicity, clarity, and alignment to your brand's story, strategy, and systems in our best-selling book: Marketing, Interrupted.